Services
Phenotyping:
Identifcation of acquired antibiotic resistance genes.


ResFinder



Prediction of a bacteria's pathogenicity towards human hosts.


PathogenFinder



Identifcation of acquired virulence genes.


VirulenceFinder



Typing:
Phylogeny:
SNPs phylogenetic tree from assembled genomes or sets of reads.


snpTree



Organization
Project
Publications
Contact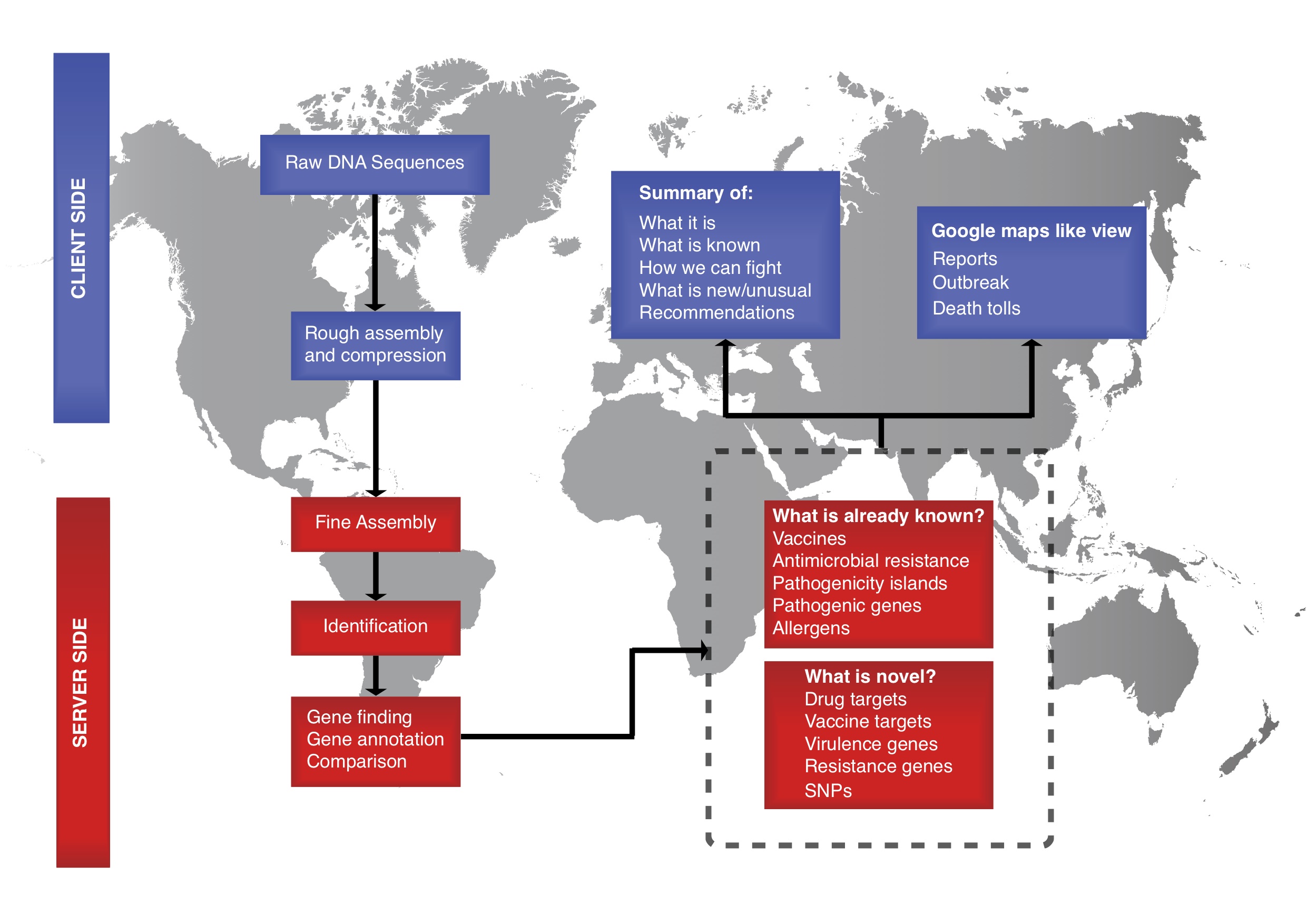 Welcome to the Center for Genomic Epidemiology
The cost of sequencing a bacterial genome is $50 and is expected to decrease further in the near future and the equipment needed cost less than $150 000. Thus, within a few years all clinical microbiological laboratories will have a sequencer in use on a daily basis. The price of genome sequencing is already so low that whole genome sequencing will also find worldwide application in human and veterinary practices as well as many other places where bacteria are handled. In Denmark alone this equals more than 1 million isolates annually in 15-20 laboratories and globally up to 1-2 billion isolates per year. The limiting factor will therefore in the future not be the cost of the sequencing, but how to assemble, process and handle the large amount of data in a standardized way that will make the information useful, especially for diagnostic and surveillance.

The aim of this center is to provide the scientific foundation for future internet-based solutions where a central database will enable simplification of total genome sequence information and comparison to all other sequenced including spatial-temporal analysis. We will develop algorithms for rapid analyses of whole genome DNA-sequences, tools for analyses and extraction of information from the sequence data and internet/web-interfaces for using the tools in the global scientific and medical community. The activity is being expanded to also include other microorganisms, such as vira and parasites as well as metagenomic samples.
News
Genomics of an emerging clone of Salmonella serovar Typhimurium ST313 from Nigeria and the Democratic Republic of Congo
October 2013
Link to article...
Internet-Based Solutions for Analysis of Next-Generation Sequence Data
August 2013
As a response to a paper published in Journal of Clinical Microbiology earlier this year, in which the authors wish for user-friendly and clinically focused platforms for analysis of next-generation sequence data, we here highlight the tools that we have already developed and made available, as well as future tools that are currently being developed. Link to article...

Advisory Board meeting
March 2013
The annual advisory board meeting in the Center for Genomic Epidemiology took place at DTU on March 1st.

Global Microbial Identifier
December 2012
The initiative 'Global Microbial Identifier' focuses on the use of genome sequencing techniques in a global system for microbiological identification and epidemiological surveillance. Visit the homepage for further information

Estimating variation within the genes and inferring the phylogeny of 186 sequenced diverse Escherichia coli genomes
December 2012
The use of whole genome sequencing will make it possible to eliminate, or at least reduce, the need for several typing steps used in traditional epidemiology. Link to article...

Integrating Genome-based Informatics to Modernize Global Disease Monitoring, Information Sharing, and Response
October 2012
Publications in the center...